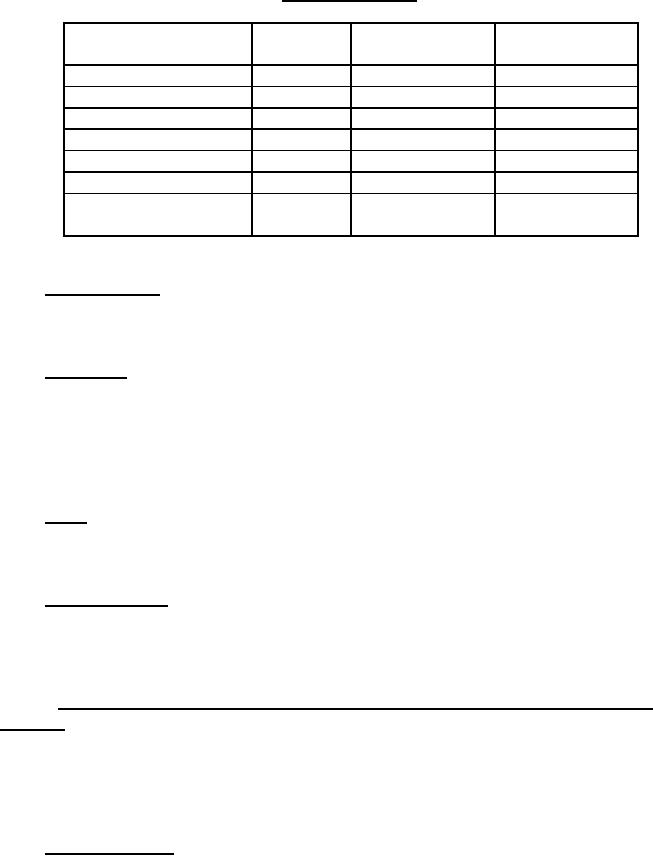 MIL-DTL-11414F
TABLE IV. Test method index ­ Continued
Test
Requirement
ASTM
Test
Paragraph
Paragraph
Method
Hydrocarbon resistance
4.5.22
3.6.9
-
Adhesion
4.5.23
3.6.10
D3359
Salt spray resistance
4.5.24
3.6.11
B117
Weather resistance
4.5.25
3.6.12
-
Reactivity
4.5.26
3.6.13
-
Corrosion
4.5.27
3.6.14
-
Onset of
4.5.28
3.6.15
-
decomposition
4.5.2 Test procedures. Tests shall be conducted in accordance with table IV. The right is reserved to
make any additional tests deemed necessary to determine that the coating meets the requirements of
this specification.
4.5.3 Test panels. Unless otherwise specified, metal panels used for test purposes shall be
two types:
a. Steel, cold rolled, pretreated with zinc phosphate coating B-952 with P60 chrome
rinse, 0.032 inches (0.8128 mm) thick, for all tests except flexibility.
b. Steel, tinplated, 0.010 inches (0.254 mm) thick, for flexibility only.
4.5.4 Color. Determine the color in accordance with ASTM D1729 by applying films with a
0.002 inch (0.004 inch gap clearance) film applicator on a black and white hiding chart until
complete hiding is obtained. Evaluate for compliance with 3.3.
4.5.5 Pigment analysis. Extract the pigment as in ASTM D2371, except use ethanol for the
extraction. Make appropriate qualitative and quantitative tests on the extracted pigment to
determine if only permissible pigments were used. Nonconformance to 3.4.1 shall constitute
failure of this test.
4.5.5.1 Antimony, arsenic, beryllium, cadmium, cyanide, manganese, mercury, nickel and
selenium. Manufacturers need to review applicable environmental and safety regulations and
comply with material shipment requirements (see 6.2). The MSDS needs to include a notarized
statement that verifies that the composition of the material (coating formulation) is free of the
antimony, arsenic, beryllium, cadmium, cyanide, manganese, mercury, nickel, selenium and their
compounds.
4.5.6 Extender pigment. Determine siliceous matter and barium sulfate by the applicable
portions of ASTM D5380. Evaluate for compliance with table I.
11
For Parts Inquires call
Parts Hangar, Inc
(727) 493-0744
© Copyright 2015 Integrated Publishing, Inc.
A Service Disabled Veteran Owned Small Business