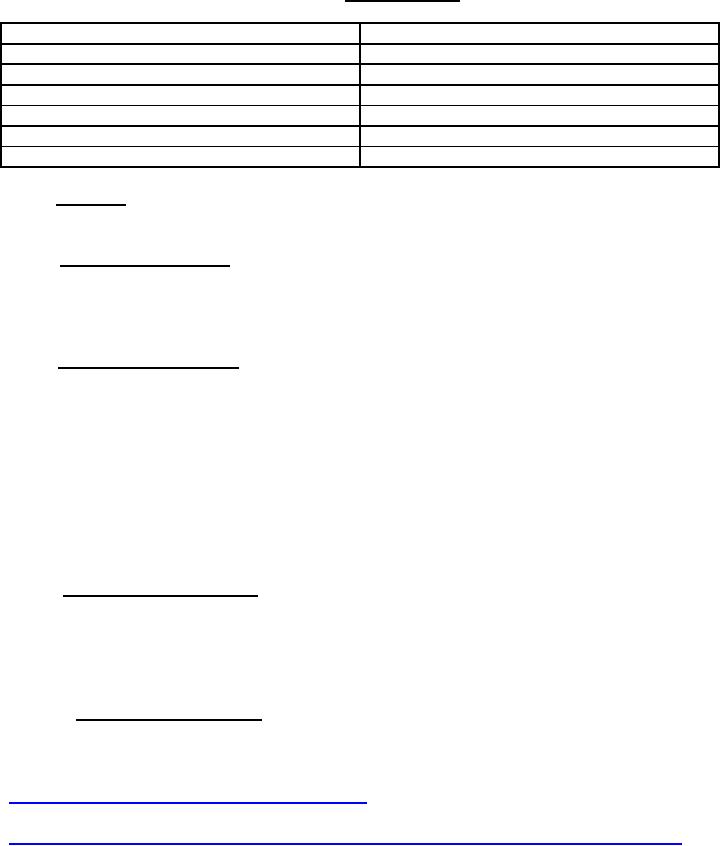 MIL-DTL-11414F
STANAG 4147, shall have their compatibility verified with the "Onset of Decomposition" test
specified in 4.5.28.
TABLE III. High Explosives.
a)
TNT
h) HBU-88
b)
C-4
i) PAX-2A
c)
IMX-101
j) Comp-B5
d)
DEMN-3J
k) PAX-3
e)
HMX
l) PAX-21
f)
Black powder
m) Comp-A3
g)
Comp-A5
n) Comp-B
3.6.14 Corrosion. Panels tested as in 4.5.27 shall show no evidence of corrosion within one-eighth
inch of the edge and shall show no breaks or cracks in the film.
3.6.15 Onset of Decomposition. When tested as in 4.5.28, mixtures of the dried paint film and the
explosives listed in table III shall meet the temperature requirements as noted by Test 4 of STANAG
4147. Energetics that meet the onset of decomposition requirements of Test 4 of STANAG 4147
shall have their compatibility verified with the reactivity test specified in 4.5.26.
3.6.16 User instruction marking. All containers shall include the VOC content and VOHAP
content in g/l or lbs/gal of coating, both un-thinned and when reduced as specified with the
manufacturer's recommended HAP-free thinner. All containers shall be legibly marked or
labeled with precautionary information as follows:
CAUTION: The Surgeon General requires airline respirators to be used unless air sampling
shows exposure to be below standards. Then, either chemical cartridge respirators or airline
respirators are required. Avoid contact with skin and eyes. Use adequate ventilation. For other
safety recommendations, refer to the Material Safety Data Sheet (MSDS). Keep containers
closed.
3.6.17 Material Safety Data Sheet. The manufacturer shall comply with the requirements set
forth by the Hazardous Communication Standard, 29 CFR 1910.1200. A MSDS shall be
prepared for the coating in accordance with FED-STD-313 and forwarded to the qualifying
activity (see 6.4). The MSDS for the material covered by this specification shall be included with
each shipment, and submitted to pertinent Government agencies as stated in FED-STD-313.
3.6.17.1 Safety Data Sheets (SDS). Safety Data Sheets (SDSs) shall be phased into the system
by the following deadline of June 1, 2015 and after June 1, 2016 the Material Safety Data Sheets
(MSDSs) becomes extinct and you must ensure that each hazardous chemical in your workplace
has an SDS and only an SDS as specified in the OSHA Brief
1910.1200 (see:
8
For Parts Inquires call
Parts Hangar, Inc
(727) 493-0744
© Copyright 2015 Integrated Publishing, Inc.
A Service Disabled Veteran Owned Small Business